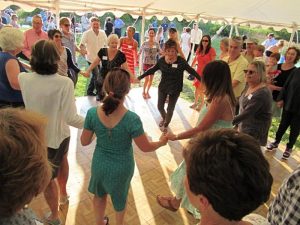 June 2018 — Each year, the JHJC presents our most significant community event, Swingin' Sabbath with the Richard Brown Orchestra and chazzan Judd Grossman. It's fun and it's free to the Jackson Hole community. It's a celebration of being Jewish in Jackson Hole.
In 2017, thanks to incredibly generous donors, we raised enough money to cover the entire $10,000 cost of bringing this family-friendly celebration to Jackson Hole. This year, we'd like to do the same. While this event is budgeted in our annual budget, covering all, or part, of the expenses, allows us to support other free JHJC programs, like High Holidays; or urgently subsidize programs in need like our Bet Sefer religious school.
If you would like to contribute towards Swingin' Sabbath 2018, please email me at: info@jhjewishcommunity.org. I'd be happy to send you an invoice via SquareUp. You can also go to our Website HERE and click on the Donate button. Or, you can send a check to:
JHJC
Box 10667, Jackson WY 83002
We'll be listing our sponsors (please tell me if you'd like to remain anonymous) at the event.
Thank you for considering.
Mary Grossman
Executive Director, JHJC