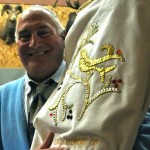 President's Rosh HaShanah Message
Sept. 25, 2014  –  1 Tishrei, 5775
Good morning everyone. On behalf of the Jackson Hole Jewish Community Board of Directors I want to express our wishes for a healthy, happy and fulfilling year for all of you and your families. I'd like to take a moment to acknowledge and thank some folks. I want to thank Carl Levenson for his wonderful leadership and thoughtful commentary. He always seems to come up with new insights to challenge us to think more deeply about our beliefs and Jewish traditions and what these holidays are all about. And I would like to thank our Chazzan, Judd Grossman, for beautifully filling our hearts and minds with the ancient songs of our people, stirring in us the spirit of these Holy Days. And most of all deep gratitude to our executive director, Mary Grossman, who's whirlwind energy makes these High Holiday services happen.
Many of you in the sanctuary this morning know the history of the JHJC but many of you may not or may not grasp the significance of its beginnings and how that has molded the organization we have today. I'd like to give you a snapshot of it, if I may. Jewish community folklore has it that the current JHJC had its seed planted in Dr. Brent Blue's living room at annual Chanukah parties he hosted in the late 1970's/early 80's. Depending on who you talk to it was either that the brisket kept running out because of all the people that came or the threat of his house burning down from all the lit menorahs that people brought, that the party had to move to a different venue. Also during this time if you wanted to formally observe the High Holidays, Jackson Jews would travel to the nearest synagogue located in Pocatello, Idaho, some 3 hours drive from here where they held services.They'd stay at one of the motels along the interstate so they could attend evening and then morning services before heading home only to repeat the process the following week for Yom Kippur.
Then several local yokels, some of which are sitting here today, got the idea that there were enough Jews here in the valley to form their own congregation and so the Chaverim was born. It started out with Sabbath services by the river or at someone's house in the winter conducted by whoever seemed to remember their Hebrew school education best. It was usually a joint effort as different people would remember various bits and pieces. Then as the number of Jews started to grow in Jackson Hole the Chaverim started to morph into what it has become today, the Jackson Hole Jewish Community, a full-fledged congregation with by-laws, a board of directors and an annual budget.
Today we offer regular Sabbath services, observe religious holidays, support a Hebrew school and a summer day camp. We train B'nai Mitzvah students. We sponsor Jewish and community cultural events, provide community outreach and perform acts of tzedakah. I tell you all this to illustrate that we are a homegrown, grassroots organization. We started out that way and it continues in that way. Everything we do and however we fashion the JHJC we, as a community, do it locally or, as some members like to put it, in "Jackson Hole Jewish" style. Of course, it is all done with 5,000 years of tradition to help us. The message is that we have put this all together out of a desire to celebrate our Jewish heritage for ourselves, our children and hopefully for those that come after us.
The Board never forgets the roots of this congregation and therefore encourages its members to ask questions, offer suggestions and give constructive criticism. The Board has, every few years, published a survey for the membership, to check in to see if things were on the right track or if we needed to change directions. This fall they will be putting out another survey to check in again.
Let me finish by giving you just one reason why I feel blessed to be a member of this congregation. Several years ago one of our cherished members, Larry Reiser, may he rest in peace, was so inspired by his long affiliation with this Jewish community that he decided to become a Bar Mitzvah. He worked diligently with Judd and Josh to learn his portion of Torah. It was with their love and patience that he mastered it. And it was with his own faith, courage and determination that made him feel comfortable enough to stand before Adonai and his community, not as a 13-year-old but at 82 years of age. The fact that he felt empowered to do what he did through the support and encouragement of the entire congregation speaks volumes about what this community is all about and is one reason why I am proud to be a member of this congregation.
So, I thank all of you for being who you are and for all your efforts in order to maintain a vibrant Jewish presence deep in the heart of the Rockies by sustaining the JHJC.  – Al Zuckerman, JHJC President