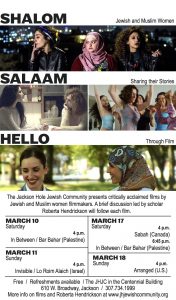 The JHJC presents critically acclaimed feminist films by Jewish and Muslim Filmmakers. All films are followed by a brief discussion led local scholar Roberta Hendrickson.
Bar Bahar / In Between  (2016, Palestine)
Sat., March 10: 4 p.m. and Sat. March 17, 6:45 p.m
  "In Between" in Arabic, was written and directed by Maysaloun Hamoud, a Palestinian Israeli filmmaker.  It focuses on the lives of three young women, Laila, a lawyer, Salma a DJ and Nour, a graduate student, sharing an apartment and experiencing the difficulties of living between two conflicting cultures, traditional Arab culture and the secular youth culture of Tel Aviv. This film will be screened twice, Saturday, March 10 and Saturday, March 17.  Watch the trailer:. 
Invisible (2011, Israel)
Sunday, March 11: 4 p.m.
Invisible was written and directed by Michal Aviad, a Jewish Israeli documentary filmmaker and is her first fiction feature film. It explores the continuing effects, more than twenty years later, of their rape by a real serial rapist inTel Aviv in the late 1970s on two of his victims, Nira, a documentary filmmaker and Lily, a political activist, imagined by Aviad. The film speaks forcefully to the present: #Me Too. Watch the trailer: 
 Sabah (2005, Canada)
Saturday, March 17: 4 p.m.
Sabah a romantic comedy, was written and directed by Ruba Nadda, whose parents, Syrian and Palestinian, emigrated to Canada when she was a child. In the film, Sabah, the daughter of Syrian Muslim immigrants to Canada, who rejected marriage as a young woman, is about to celebrate her fortieth birthday with her family. When she meets Stephen, who is neither Arab nor Muslim, family ties are threatened.  Watch the trailer:
Arranged (2007, U.S.)
Sunday, March 18: 4 p.m.
 Arranged was written by Stefan C. Shaefer and Yuta Silverman, an Orthodox Jewish American woman, and directed by Diane Crespo and Stefan C. Shaefer  The film, inspired by the experience of Yuta Silverman, explores a friendship between an Orthodox Jewish woman and a Muslim American woman, Rokhl and Nasira, who meet as new teachers and find they have much in common, as they face arranged marriages within their cultures and the secular world at school. Watch the trailer: 
Roberta Makashay-Hendrickson taught in the undergraduate off-campus degree program at UW for more than twenty years.  Her classes focused mainly on literature by minority women writers/ women writers of color, including Jewish and Arab Americans.
 The films are free and screened at the JHJC in the Centennial Building (610 W. Broadway, Jackson)  All films are for mature audiences only. Refreshments available. Email the JHJC if you have any questions at info@jhjewishcommunity.org.