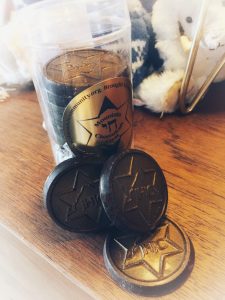 Use the ticket purchasing portal above. It's normally used for tickets, but we've put some retail in there for this occasion. Let us know if you have any questions, info@jhjewishcommunity.org. Thank you!
Special Offer Ends December 31: $10 each
Mountain Chai Chanukah Gelt
Hand-crafted gold-dusted chocolate coins made by Oscar Ortega. Commissioned by our very on JHJC Bet Sefer Students.
 We have limited number of gelt left over from our annual fundraiser. Order before December 31 and receive $3 off of each order. Shipping not included.