When:
January 24, 2020 @ 6:00 pm – 8:30 pm
2020-01-24T18:00:00-07:00
2020-01-24T20:30:00-07:00
Where:
St. John's Episcopal Church
170 N Glenwood
Jackson
Cost:
Bring a dish to share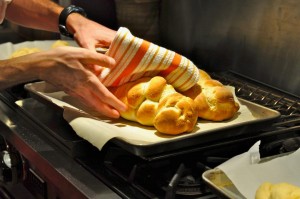 The JHJC and St. John's Episcopal Church team up for a JHJC annual tradition, Challah Shabbat. Learn to braid and bake Shabbat challah bread with Josh Kleyman. While the bread is baking, enjoy an abbreviated Shabbat service led by Judd Grossman (JHJC cantor), Josh Kleyman (JHJC lay leader) and Rev. Jimmy Bartz from St. John's Episcopal Church. The JHJC will provide a light main dish, wine/drinks and dessert. Please bring a side dish to share, if possible. Families encouraged to come!