When:
December 31, 2019 @ 11:30 pm – January 1, 2020 @ 11:45 pm
2019-12-31T23:30:00-07:00
2020-01-01T23:45:00-07:00
Where:
JHJC in the Centennial Bldg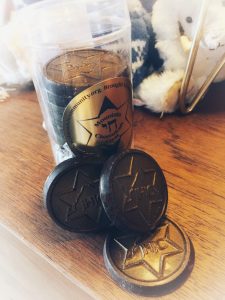 NOTE: you cannot use an iPad or iPhone to order gelt. Regular computer only.
ORDER NOW!
It moose be Chanukah! The is no better way to celebrate Chanukah then to give the gift of chocolate. Indulge in these hand-crafted chocolate coins made by world-famous chocolatier Oscar Ortega. This is a Tikun Olam fundraiser presented by our Bet Sefer students and this year's proceeds will be donated to two local nonprofits as well as the Bet Sefer program. NOTE: Use the portal above to order your chocolates. It will take you to a PayPal interface. You are not required to have a PayPal account! Just choose the "Pay with Debit or Credit Card" button and use your credit card normally. Allow at least a week for orders that need to be shipped. If you are picking up your gelt packages, here are a few opportunities to do so:
5 – 6 p.m. December 12: Gelt packaging party at JHJC in the Centennial Bldg.  Come at 4 p.m. and help package!
5 – 6 p.m. December 19: It Moose Be Chanukah – a student-led Chanukah party at the JHJC in the Centennial Bldg.
6 -9 p.m. December 28: Chanukah party, 6:00 pm Old Wilson School House in Wilson, WY. Pick up and payment due.